Custom steel fabrication of individual pieces, sub-assemblies or entire assemblies in pre-fabricated gal, hot dip galvanised or powder coated. For commercial, architectural, aged care, health care, pharmaceutical, industrial & mining applications.
Laser cutting, punching, drilling, bending, TIG welding & MIG welding & general steel fabrication. In mild steel, pre fabricated gal, powder coated or hot dip galvanised.
Examples of Steel fabrication applications/ customers' requirements:
Custom work benches, channels, posts, frames, plates, trolleys, grating, packaging equipment, cages, cabinets, posts, displays, platforms, hoists, benches, machine guarding, bins, racks, crates, rails, display stands, fixtures, conveyers, chutes and access ramps.
Examples - click to see larger image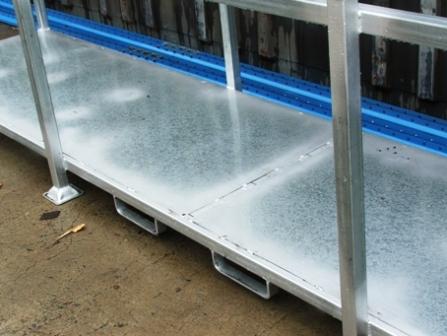 View more examples of applications
Click here to discuss your specific custom sheet metal fabrication requirements
Call 0417 063 668 to discuss your requirements or email to This email address is being protected from spambots. You need JavaScript enabled to view it.
AccuFab Solutions is based in Sydney, NSW, Australia.
Custom steel fabrication, made to order to your specific requirements.
---