Custom fabrication of warehouse trolleys in aluminium, steel and stainless steel
Call 0417 063 668 to discuss custom manufactured order picking trolleys, custom warehouse, robot, factory and industrial trolleys. Also, kitchen, bakery, oven, food, crate, cage, pharmaceutical, flat bed, lap top, garden, small goods, baking, health, rack, tray, restaurant. In addition to office, boardroom, aged care, timber, customised, mdf, distribution centre, logistics, purpose built, tray and bin trolleys.
Other examples of trolleys manufactured to your specifications are healthcare, hospital, ward, GP, surgery, medical records, library, storage, filing, organising, supply chain, distribution and utility trolleys.
Whether you require the trolleys powder coated, painted, hot dip galvanised or made out of pre-fabricated gal, call us to discuss.
custom trolleys in 304 or 316 stainless steel, mirror, brushed or mill finish.
Aluminium made to order trolleys powder coated or raw.
Click to see larger images of trolleys made to order to your specs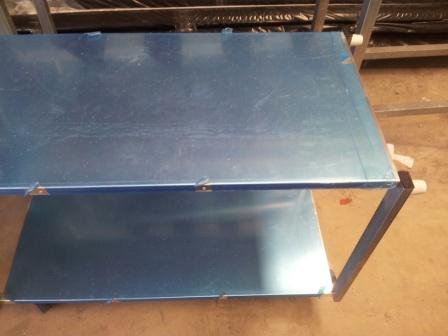 Call 0417 063 668 to discuss your made to order requirements or email to This email address is being protected from spambots. You need JavaScript enabled to view it.
View more examples of custom manufactured trolleys
AccuFab Solutions is based in Sydney, NSW.
Made to order aluminium, steel and stainless steel trolleys, custom fabricated to your specs.
---